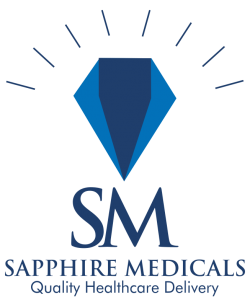 Sapphire Medicals Limited
Sapphire Medicals Limited (SML) started out in 2006 as a general/family practice facility and grew into a multi-specialty hospital. Over the years services have been narrowed down to fill a gap in our environment and focus on key areas of interest.
Sapphire Medical recently partnered with Female bikers Initiative to provide free cervical cancer initiative on Tuesdays and Thursdays.
Currently SML offers the following services:
1. Health & Wellness Checks
2. Annual Medical Checks
3. Day case surgery
4. Breast and Cervical Cancer Screening & Treatment Services
It also serves as the engine room for programs carried out by African Health Development Initiative e.g. free surgical camps, subsidised basic health checks, etc.
Vision
To be the leading provider of quality healthcare services in West Africa and a model for healthcare providers worldwide.
Mission Statement
Provision of quality services to all our clients
– A core area of focus is the quality of service delivery, engaging courteous
staff who undergo training regularly to meet the needs of our clients.
Commitment to research and development
– Unending learning is key to provision of quality healthcare services,
personal and organisational development in health and service related
issues is essential to providing the gold standards of patient care.
Continuous quality improvement in all aspects of operations
– Quality Assurance/Quality Improvement techniques are applied regularly
with all cadre of staff involved to ensure an ever increasing quality of
services and operations.
Core Values
Commitment to patient care, service delivery and personal development.
Excellence in service delivery and all aspects of operations.
Innovation in approaching client needs and tackling challenges/ obstacles.
Integrity in all things.
Motto
"Excellence in Quality Healthcare Delivery"